"Follow your bliss. The heroic life is living the individual adventure. There is no security in following the call to adventure. Nothing is exciting if you know what the outcome will be." ~Joseph Campbell
In his book review of Mary McManus' "The Adventures of Runnergirl 1953," Dave McGillivray calls Mary a most unlikely runner…and she is. She suffered paralytic polio at the age of 5, endured years of child abuse at the hands of family members and at the age of 53 was diagnosed with Post-Polio Syndrome, a progressive neuromuscular disease. She was a stranger to athletics whose nickname in gym class was "Easy Out Alper" (her maiden name) until the wake up call of a neuromuscular disease that threatened to leave her living the rest of her days in a wheelchair. Mary realized she was at a crossroads in her life despite being at the top of her game as an award winning social worker at the Boston VA Outpatient Clinic. She got still seeking Divine Guidance vowing that she would not take the diagnosis sitting down! "Running the Race," a poem in the cadence of Dr. Seuss, flowed out of her as she sat in a leg brace, using a cane and at times a wheelchair for mobility.  Mary could have easily accepted the diagnosis and no one would have judged or criticized her for taking an easy path after all she had lived through. Instead, she chose the road less traveled. She met remarkable people and made memories that have left a lasting imprint on her heart and soul.
Mary's quest to heal her life led her to the sport of running that tested her mettle and took her on a journey of transformation from a survivor of paralytic polio and a violent past to a runner who defied all the odds.  On April 20, 2009, at the age of 55, Mary crossed the finish line of the Boston Marathon with her husband and daughter by her side having raised $10,535 for Spaulding Rehab Hospital where she took the first steps on her healing journey. Mary has demonstrated time and again that, when you harness the power of your mind and train your body, the possibilities are endless!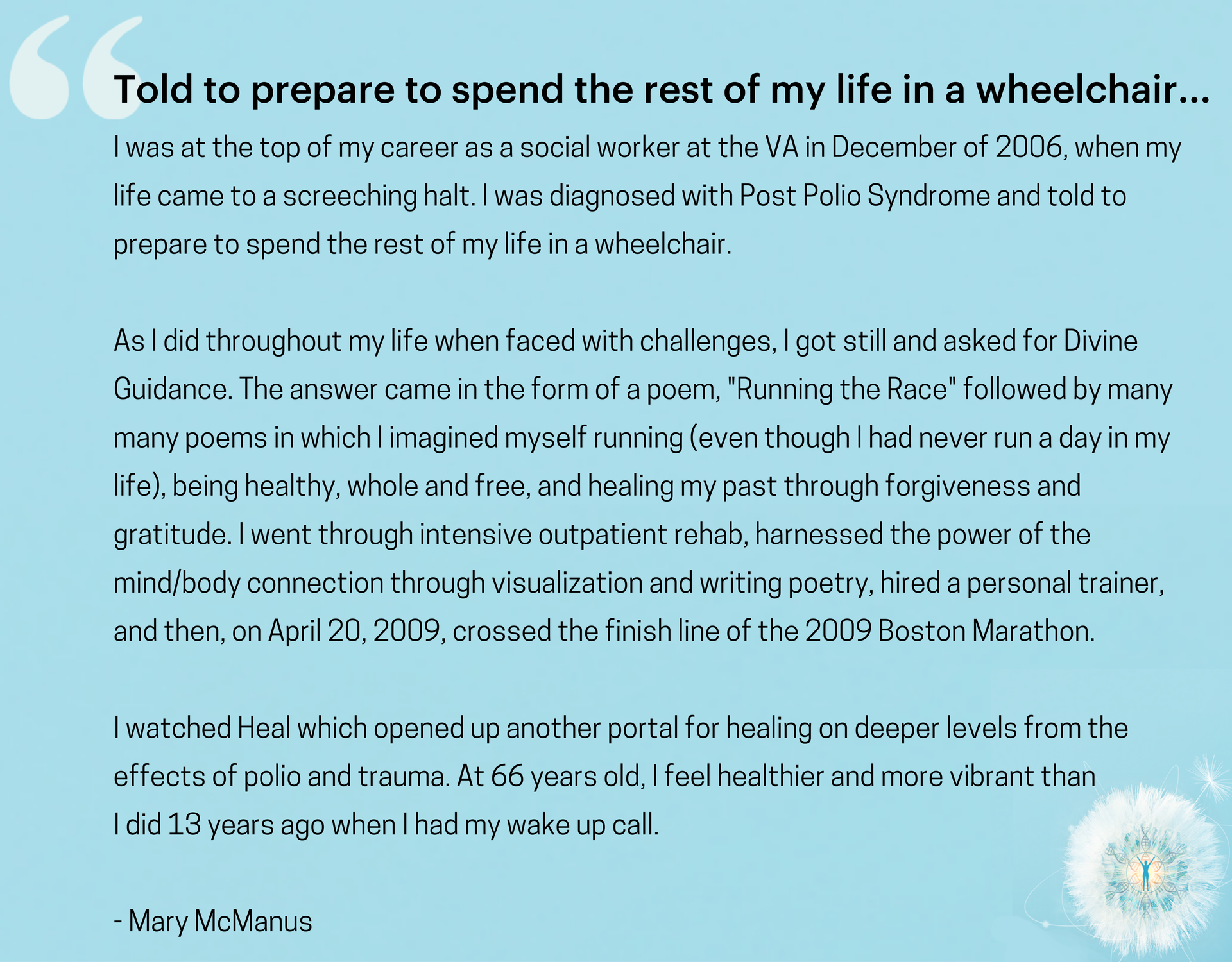 Welcome to Mary's website! Here's to the hero in all of us!