NOW AVAILABLE ON AMAZON: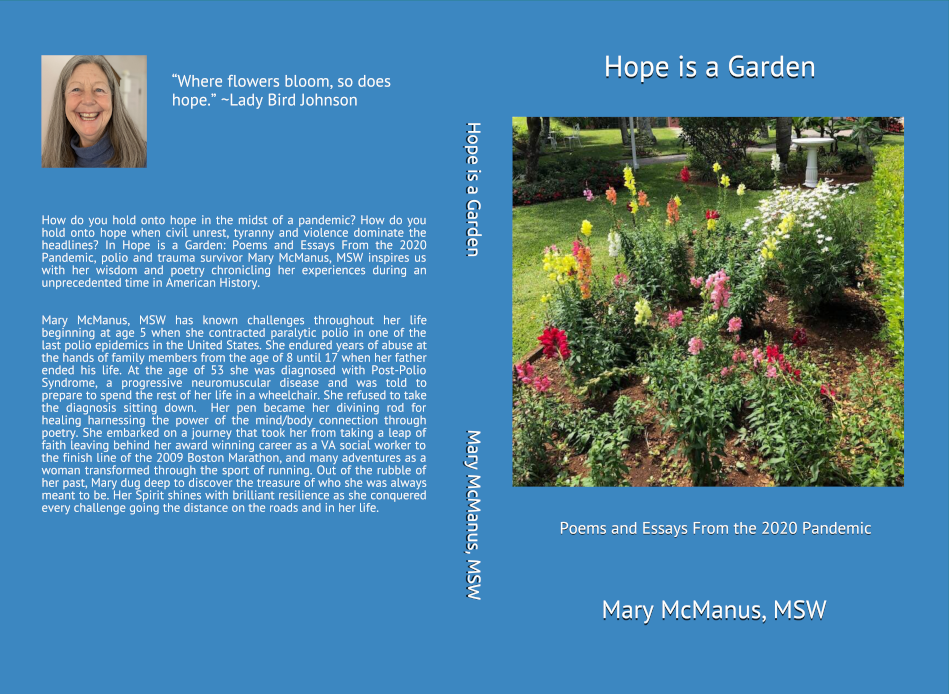 Mary's latest book, 'Hope is a Garden: Poems and Essays From the 2020 Pandemic' to uplift and inspire you was written during the 2020 Pandemic. As a survivor of childhood paralytic polio and trauma, Mary has a remarkable resilience that she shares with her reader taking them throughout the seasons of the pandemic from March 2020 through January 2021. This combination of essays and poems serve as a chronicle of a unique time in America and the world while encouraging the reader to focus on hope and optimism despite all appearances to the contrary.
How do you hold onto hope in the midst of a pandemic?
How do you hold onto hope when civil unrest, tyranny and violence dominate the headlines?
In Hope is a Garden: Poems and Essays from the 2020 Pandemic, polio and trauma survivor Mary McManus, MSW inspires us with her wisdom and poetry chronicling her experiences during an unprecedented time in American History.
Praise for Hope is a Garden:
"What a lovely book!
Once again, Mary McManus has delivered a beautiful garden of words and emotions that connect us to the Divine.  
"Hope is a Garden" is a carefully crafted selection of poems, combined with a journal that looks at the challenges of this past year  through a lens of affirmation and hope." ~Lee Woodruff  New York Times Bestselling Author, Co-Founder Bob Woodruff Foundation, Journalist, Media Trainer, Caregiving Contributor AARP
"A star was born when Mary McManus came into our world.  Her life wasn't going to be easy.  There would be trials.  She has found trials to be gifts - ways to connect with the Divine.  In her latest book, Mary illuminates the darkness that often consumes us in times of trouble.  "Hope is a Garden" offers direction for everyone seeking renewed faith, a path forward with purpose, and a joyful existence." ~Jennifer Skiff, Author God Stories:  Inspiring Encounters with the Divine, The Divinity of Dogs:  True Stories of Miracles Inspired by Man's Best Friend, Rescuing Ladybugs:  Inspirational Encounters with Animals That Changed the World
 "Hope is a Garden demonstrates Mary McManus' resilience during the pandemic and political discord to find peace during these extraordinary times when many are in despair.  She shares her insights and inspiration to help others find hope and possibility in the darkness. She truly turns a light on with this book of poems and essays." ~Michael Rocha, MD, Cardiologist and Director, New Bedford Wellness Initiative
"Motivational, Inspirational, Spiritual  In her latest book, "Hope is a Garden," Mary McManus brings us along with her through this past year of challenges and reminds us to look for the good and light and hope all around.
The community of runners is a positive and encouraging group. There is no better spokesperson for positivity than the "Empress of Enthusiasm" herself, Mary McManus. Her smile draws you in, and her words are motivational, inspirational, and spiritual. Mary shares her experiences and emotions, and the reader is compelled to do some self-reflecting as well. "Hope is a Garden" is a group run through the seasons with Mary as the run leader sharing stories and insights and blessings.  ~Carolyn Baker, BA Psy., M.Ed., Team Leader/Department Head and Educator, Member of NYSUT
Five Star Review on Amazon
"5.0 out of 5 stars A Breath of Fresh Air!
Reviewed in the United States on March 8, 2021
Verified Purchase
Hope is a Garden is a lovely, insightful collection of writings by the talented Mary McManus. You'll find yourself reaching for a pen to underline clever thoughts and surprising insights. It will remind you of our collective pandemic plight and then with hope, humor and humanity help bring you gently past to a brilliant--resilient--future. Well done!"