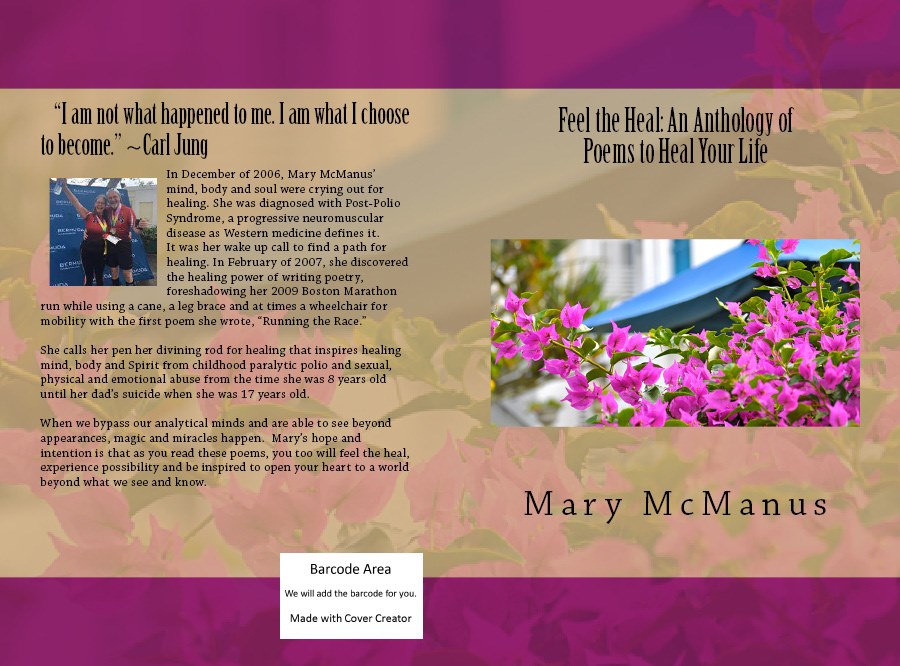 In December of 2006, Mary McManus' mind, body and soul were crying out for healing. She was diagnosed with Post-Polio Syndrome, a progressive neuromuscular disease as Western medicine defines it. It was her wake up call to find a path for healing. In February of 2007, she discovered the healing power of writing poetry, foreshadowing her 2009 Boston Marathon run while using a cane, a leg brace and at times a wheelchair for mobility with the first poem she wrote, "Running the Race."

She calls her pen her divining rod for healing that inspires healing mind, body and Spirit from childhood paralytic polio and sexual, physical and emotional abuse from the time she was 8 years old until her dad's suicide when she was 17 years old. The body cannot distinguish between what is real and what is happening in the imagination. Mary's poetry ignited the power of her imagination to create a future different than the ones the physicians predicted for her and to heal her past through the power of love, forgiveness and gratitude.

When we bypass our analytical minds and are able to see beyond appearances, magic and miracles happen. Mary's hope and intention is that as you read these poems, you too will feel the heal, experience possibility and be inspired to open your heart to a world beyond what we see and know.
Purchase "Feel the Heal" on Amazon