AVAILABLE ON Amazon, at Paper Fiesta, and Wisdom of the Ages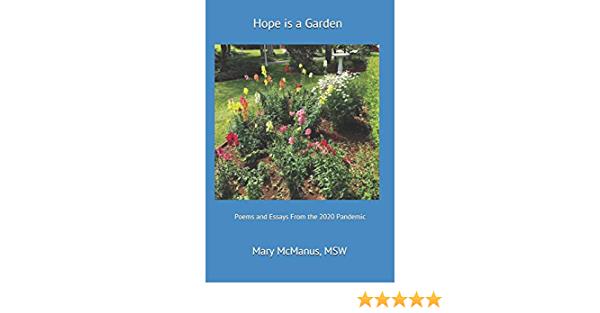 Mary's latest book, 'Hope is a Garden: Poems and Essays From the 2020 Pandemic' to uplift and inspire you was written during the 2020 Pandemic. As a survivor of childhood paralytic polio and trauma, Mary has a remarkable resilience that she shares with her reader taking them throughout the seasons of the pandemic from March 2020 through January 2021. This combination of essays and poems serves as a chronicle of a unique time in America and the world while encouraging the reader to focus on hope and optimism despite all appearances to the contrary.
How do you hold onto hope in the midst of a pandemic?
How do you hold onto hope when civil unrest, tyranny and violence dominate the headlines?
Praise for Hope is a Garden:
"Mary is a gem. Get her books and learn." ~Bernie Siegel, MD Dr. Bernie Siegel is a writer and retired pediatric and general surgeon who writes and teaches about mind-body medicine and the relationship between the patient and the healing process. He is internationally known for his best-selling book, "Love, Medicine and Miracles". In 1978 he founded Exceptional Cancer Patients, a specific form of individual and group therapy utilizing patient's drawings, dreams, images and feelings. ECaP helped to facilitate personal lifestyle changes and personal empowerment of the individual's life. He has been a global pioneer in improving and humanizing medical education and medical care.
"What a lovely book!
Once again, Mary McManus has delivered a beautiful garden of words and emotions that connect us to the Divine.  
"Hope is a Garden" is a carefully crafted selection of poems, combined with a journal that looks at the challenges of this past year  through a lens of affirmation and hope." ~Lee Woodruff  New York Times Bestselling Author, Co-Founder Bob Woodruff Foundation, Journalist, Media Trainer, Caregiving Contributor AARP
"A star was born when Mary McManus came into our world.  Her life wasn't going to be easy.  There would be trials.  She has found trials to be gifts - ways to connect with the Divine.  In her latest book, Mary illuminates the darkness that often consumes us in times of trouble.  "Hope is a Garden" offers direction for everyone seeking renewed faith, a path forward with purpose, and a joyful existence." ~Jennifer Skiff, Author God Stories:  Inspiring Encounters with the Divine, The Divinity of Dogs:  True Stories of Miracles Inspired by Man's Best Friend, Rescuing Ladybugs:  Inspirational Encounters with Animals That Changed the World
 "Hope is a Garden demonstrates Mary McManus' resilience during the pandemic and political discord to find peace during these extraordinary times when many are in despair.  She shares her insights and inspiration to help others find hope and possibility in the darkness. She truly turns a light on with this book of poems and essays." ~Michael Rocha, MD, Cardiologist and Director, New Bedford Wellness Initiative
"Motivational, Inspirational, Spiritual  In her latest book, "Hope is a Garden," Mary McManus brings us along with her through this past year of challenges and reminds us to look for the good and light and hope all around.
The community of runners is a positive and encouraging group. There is no better spokesperson for positivity than the "Empress of Enthusiasm" herself, Mary McManus. Her smile draws you in, and her words are motivational, inspirational, and spiritual. Mary shares her experiences and emotions, and the reader is compelled to do some self-reflecting as well. "Hope is a Garden" is a group run through the seasons with Mary as the run leader sharing stories and insights and blessings.  ~Carolyn Baker, BA Psy., M.Ed., Team Leader/Department Head and Educator, Member of NYSUT
"I just received your book and.....
OH MY GOOODNESS!!!
It's so beautiful! I have been flipping through the poems and they are all incredible. Inspiring, touching, sensitive, authentic...... really moving.
I can't wait to read more. I'm planning a breakfast in bed tomorrow morning to dive deeper into your beautiful work.
(PS it reminds me of the chicken soup for the soul books - only better!!!)" ~Angela Ressa, Director at Angela Walker Enterprises, Ltd. UK
I loved reading Hope is a Garden, I love the way you weave story prior to the poems, it creates a deeper feeling when reading each poem. You capture all the fears, struggles and wonder of the pandemic in this last year. You also capture with taste the insanity of the last four years with a new President eager to make a difference in communities that have been struggling for ions. For All people. Bravo! The Divine was at hand as I feel your heart in this book, and it glows. ~Deborah Beauvais, Owner Dreamvisions 7 Radio & TV Network, Love By Intuition Show, Kids 4 Love Project
Five Star Reviews on Amazon
"5.0 out of 5 stars A Breath of Fresh Air!
Reviewed in the United States on March 8, 2021
Verified Purchase
Hope is a Garden is a lovely, insightful collection of writings by the talented Mary McManus. You'll find yourself reaching for a pen to underline clever thoughts and surprising insights. It will remind you of our collective pandemic plight and then with hope, humor and humanity help bring you gently past to a brilliant--resilient--future. Well done!"
"Joe McCarthy
5.0 out of 5 stars A BOOK OF JOY
Reviewed in the United States on March 25, 2021
Verified Purchase
HOPE IS A GARDEN
Poems and Essays from the 2020 Pandemic
Every once in a while you are fortunate to come across a book that is a joy to read. A book that uplifts your spirit and gives meaning and witness to the wonders of life. Recently, my friend Beth recommended such a book – HOPE IS A GARDEN, written by her friend, Mary McManus, MSW.
It is a remarkable remembrance of 2020. It includes essays about the challenges Mary encountered in this unique year - always balanced with words that embrace Mary's joyful and optimistic spirit. The poems are  like touchable stars and, I think , should be read over a period of time to allow the opportunity for reflection. The words unfold with a sense of hopefulness that I immediately embraced. Just one example/excerpt that touched my heart from the poem that titled the book:
"In darkness hope stirs
light pierces through
as new life breaks ground
yet invisible to the eye
seeds of infinite possibilities
hope the harvest of imagination."
This is a book that will provide you with the opportunity to see the past year through Mary McManus's eyes of wisdom. And will enable you to anticipate the future with hopefulness and love.
Definitely one of the best "reads" I have encountered.  Hope you read this life-impacting book. It may not change your life. But it will provide you with a lens of hope and love."
JoAnn Lynn
"5.0 out of 5 stars Beautiful. Inspirational.
Reviewed in Canada on March 22, 2021
Verified Purchase
I love this book. It's a book to be savoured -- each and every poem and story. And then savoured again. Mary McManus opens her heart, sharing memories and inspiration and hope during a scary, challenging year. Beautifully written."