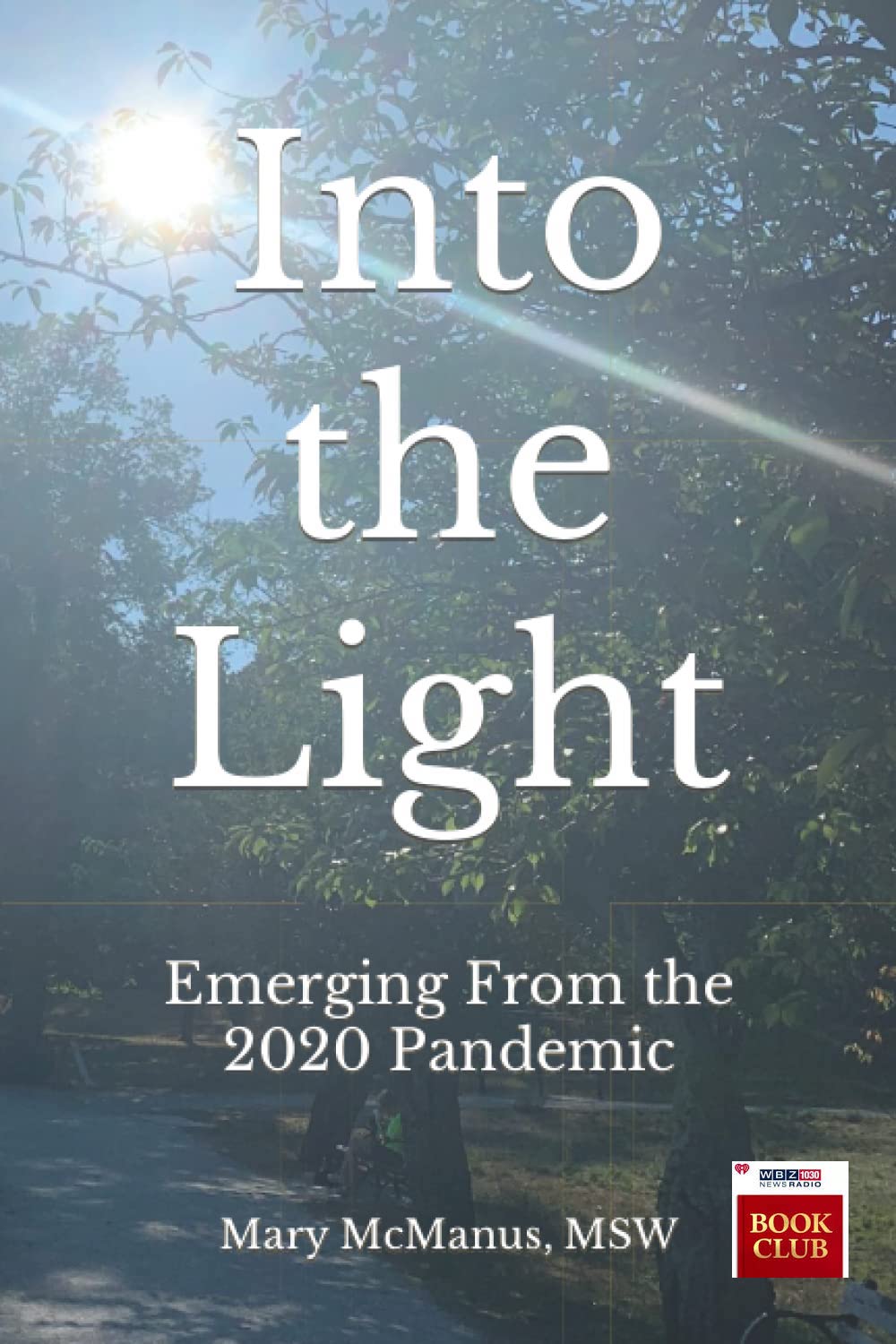 "Into the Light: Emerging From the 2020 Pandemic" is a selection of the WBZ News Radio Boston Book Club.
Mary McManus is known to many in the Boston area as a motivational speaker, author, poet and survivor; a champion of resilience who refused to let a tough disease known as Post-Polio Syndrome ever stop her or slow her down. She's run marathons including Boston in 2009 and Mary has never stopped giving back. She does so now in her new book, "Into the Light: Emerging From the 2020 Pandemic." Her perspective of course is interesting knowing of her own personal resilience in fighting against a devastating diagnosis and, in the new book, she is very honest about how the pandemic brought childhood trauma once again to the surface. She writes about how she got through it all with a great deal of faith, humor and that unique perspective that people like Mary have. ~Jordan Rich, The Book Club WBZ Boston News Radio
As you begin reading "Into the Light: Emerging From the 2020 Pandemic" you will be drawn into Mary McManus' unique perspective of experiencing a world pandemic as one who contracted paralytic polio in one of the last epidemics in the United States. Mary's revelations about her struggles with whether or not to receive the vaccine despite sharing on the local news she planned to receive it after her husband received his, reveals Mary's tender heart and ability to be vulnerable. She shares how the pandemic unearthed traumatic memories from her tumultuous childhood after polio and will leave you asking the question, "How has Mary been able to live life with an attitude of gratitude, hope, optimism and faith after all the challenges she endured." Mary's poetry and essays chronicling 18 months of emerging from the 2020 pandemic is woven with her valiant and inspiring story of healing her life after the diagnosis of Post-Polio Syndrome in December 2006. Mary's beautiful journey provides a road map to discover the light in all of us.  
Praise for "Into the Light: Emerging From the 2020 Pandemic":
Here is what Tony nominated and Grammy award winning actor Sean Allan Krill had to say on Instagram about "Into the Light: Emerging From the 2020 Pandemic:" "Thank you for the copy! So grateful to be included, and to have played a small part in your journey back into the light
"
 
Mary's book Into the Light, Emerging from the 2020 Pandemic, is like a comforting chat over a cup of tea with a good friend. It's so easy to relate to Mary's poetic prose about arising after one of the most uncertain and unexpected times in our history. Her words feel like the first ray of sunshine that you catch sight of after a violent storm crashes down and reminds you that hope never fades even on the darkest of nights.  Mary's traumatic history as a child Polio survivor gives her a unique voice filled with bravery, optimism and vulnerability at the perfect moments sharing her uncanny ability to turn any situation into a beautiful reflection of possibility. You will love meandering through the pages of Mary's book that steer you towards the light you always knew was deep inside you so you can learn to embrace her beautiful attitude as your own. ~ Carrie Rowan, International Bestselling Author, Podcast Host, Coach, and Award Winning Singer/Songwriter
Five Star Reviews on Amazon from US, UK and Canada!


One of the most rewarding reviews I have ever received, " I just wanted you to know we purchased your book today. We thought we could read it to our daughter while she is in the hospital. We thought that we would benefit from the encouraging poems."