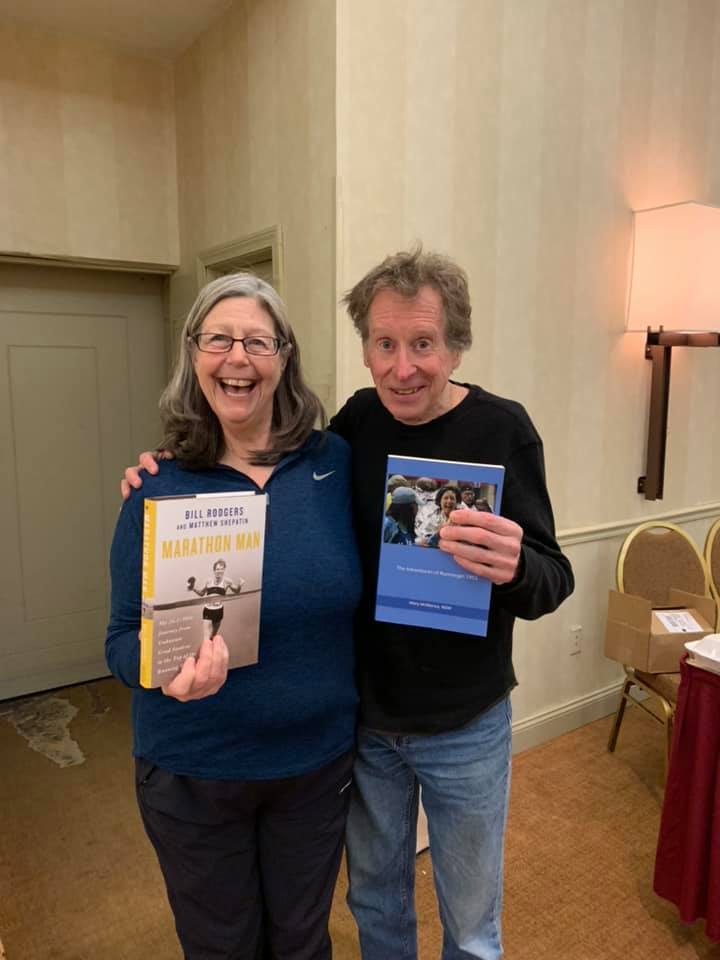 Mary's health and wellness journey was featured in the Heal Documentary newsletter:
The Boston Marathon and the Boston Marathon Expo were Virtual Events for 2020. Mary was thrilled and delighted to participate in: "Late Life Running and Whole Life Running." Authors and running veterans Roger Robinson, Gail Waesche Kislevitz,  Jonathan Beverly, and Mary McManus talked with Consecutive Boston Marathon Record Holder Ben Beach about the benefits and joy that comes with *even more* miles.
You can see it and all the other panels that have been archived by following this link
On February 22-23, Mary wowed the runners and their guests at the 2020 Hyannis Marathon Weekend sharing her inspirational journey as a "most unlikely runner" going from a wheelchair to the finish line of the 2o09 Boston Marathon and beyond. Be sure to read her 5 part series about the epic weekend in her blog.
David R. Hamilton, Ph.D. released the 10th Anniversary edition of his book, "How Your Mind Can Heal Your Body."  Mary's use of imagination, visualization and poetry to heal the effects of childhood paralytic polio and trauma after the diagnosis of Post-Polio Syndrome is one of the healing stories included in his book. David's life changing  book is available on Amazon.
| | | |
| --- | --- | --- |
| |   | |
"Out of hundreds of stories I received about healing through visualization for the tenth anniversary of "How Your Mind Can Heal Your Body," I was absolutely blown away by Mary's story." ~David Hamilton, Ph.D.
"Introducing today's amazing Wellness Warrior blog post featuring Mary McManus. Click the link below to read about the runner, author, motivational speaker, and blogger of Brookline, MA who  survived and triumphed over Polio, a difficult childhood, and Post-Polio Syndrome.She is...incredible to say the least."
Thank you to Meghan Kalei, DPT for featuring me on your Lovely Bones PT blog as a Wellness Warrior. tiny.cc/43itkz
EXCEPTIONAL WOMEN on Magic 106.7 is the nation's leader in programming by and for women.  EW has won 44 prestigious awards and has put nearly 600 women in the spotlight.
In April of 2019, Mary shared her incredible journey with. Kendra Petrone
Listen to Mary's interview with Dr. Bernie Siegel, the pioneer of mind/body medicine on his Mind Health Matters radio show Adventures of Runnergirl 1953 with Mary McManus
What people are saying:
An amazing woman I met online, full of the joy for existence, undefeated, passionate, grateful for every breath she takes and shining such a bright light on everything she experiences. Her running journal reveals a beautiful soul, determined to run the race and win her goal, one that makes us wanting to count her as "exceptional" amongst our friends. ~Florence C. Paris, France
Five Star Reviews for "The Adventures of Runnergirl 1953" on Goodreads and Amazon
5.0 out of 5 stars Fantastic read for all walks (or runs🙂) of life!
March 8, 2019
Format: Paperback Verified Purchase
I bought this book because I've actually met Mary and find her to be an inspiration. While running comes naturally to me sitting and reading creates some anxiety. However I breezed through this book and enjoyed every bit! If you are a runner , you will definitely identify and find it an easy, excellent read. If you are not a runner, you will likely feel the same way. Everyone has a challenge that they are fighting to overcome or a goal they are striving to reach and Mary put such things in great perspective and provides fantastic inspiration in this book. I recommended it to my mother who also purchased it and also found it to be an excellent read! ~Morgan on "The Adventures of Runnergirl 1953"
Going the distance is always easier when you have someone who has gone before you and can share with you their roadmap for success. That's what Mary McManus does for her readers in this book. Her personal story as a runner and survivor of childhood polio, violence, and family suicides is used as the backdrop for symbolizing what's possible despite a journey littered with unimaginable heartache and difficulty. Am I good enough, strong enough, and worthy enough to achieve my biggest dreams? If you've ever asked yourself these questions, then this book is for you. It's ideal for people of all ages, backgrounds, and dreams. You and your loved ones will forget any thoughts of giving up as you determine you are "going the distance" and nothing is going to stop you from crossing your finish line! ~Nancy Shugart, author and motivational speaker, Austin, TX on "Going the Distance"
For me as a non-runner, she is the embodiment of a journey of healing and "doing the uncommon", giving us the burning desire to follow her path to achieve our own dreams contemplating for a moment the idea of "why not me?"~Florence C. Paris, France on "Going the Distance"
What a great, inspiring book! Written as if we were sitting in a coffee shop just chatting like long time friends! You don't have to be a runner to be inspired by this book! MUST READ! ~Trish T. Tampa, FL on "Going the Distance"
Once I started reading this book, I could not put it down. It was touching and inspirational - a book you will be glad you read. The author is an amazing writer and I encourage you to buy this book. ~Rose C. Cambridge, MA on "Coming Home"
Mary McManus incorporates memories, as well as present-time events, to tell the story of her life after contracting polio at the age of five. Despite recovering from this disease she faced years of physical, mental and emotional abuse from her parents and grandmother.
Over the years the stresses brought on by these abuses accumulated in her body causing severe physical problems, and resulting in a diagnosis of post-polio syndrome when Mary was just a few years away from retirement. Physicians and therapists at Spaulding Rehabilitation Hospital, as well as other health caregivers, worked together to give Mary the spiritual, physical and emotional strength she needed to heal her body from its trauma.
Determined to do something meaningful with her newfound feeling of mental and physical strength, Mary decided to run the 2009 Boston Marathon to raise money for Spaulding Rehab. Triumphantly crossing the finish line of the marathon was just one of Mary's many accomplishments described in "Coming Home," as she valiantly worked to regain the person she had lost at the age of five and rewrite her past.
After reading her story, I have to salute the courage and strength she displayed in working through extreme trials which a young girl should have never had to endure, and which led to the beautiful and generous person she has become today. Mary, you are a survivor and I salute you! ~Alma Mc. Naples, FL on "Coming Home"
A beautiful inspiring book of poetry. I can't put it down. ~Jennifer S. New Hampshire on "Feel the Heal"
dedicated and upbeat runner and athlete ~Terry K. Boston, MA
Met Mary today when my son Dan was practicing for the marathon, what a wonderful women, glad I met her! Patricia S. Boston, MA
Recommend Mary McManus as a life motivator and inspiration. JD Davis Quincy, MA
Mary chronicled her adventures on her blog,  Adventures of Runnergirl 1953
Subscribe to Mary's YouTube Channel
Purchase her books on Amazon