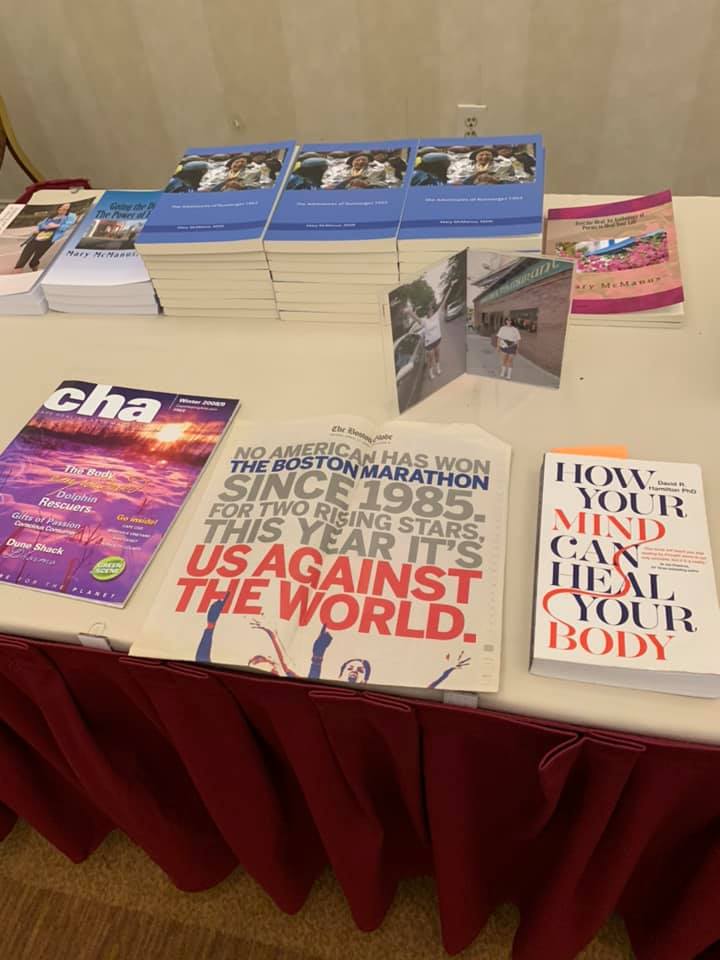 Look for Mary's upcoming conversation with Buzz Knight on his new podcast, "Takin a Walk." They will be taking a walk around the Route 9 Reservoir where Mary started her training on the road to the 2009 Boston Marathon.

On March 30, 2022, Mary was a guest on Jordan Rich's Lunch with Jordan FB Live Show. Watch this heartfelt inspiring conversation about hope, healing, possibilities and emerging from the pandemic with Jordan, Mary and Greg Chastain, President and Founder of Voices of Hope Boston.
"Polio Survivor and Brookline Resident Mary McManus has led a life of determination, running Boston, writing books and helping others along the way." Mary's life of being "scrappy and determined" was featured in the October 27th 2021 edition of the Brookline Tab. "Brookline Post-Pan (Not Quite): Mary McManus - A Life of Determination" by Susie Davidson paints a powerful portrait of Mary's journey. Read the article by following this link.
On June 29th 2021, Mary recorded her conversation with award winning journalist Liz Brunner for her podcast Live Your Best Life to share how Mary lives her best life despite all the challenges she faced.
The Cardinal Cafe is a podcast presented by Greg Chastain, Founder and President, and Ed Siegel, Vice President of Voices of Hope Boston born out of the pandemic. They host delightful conversations aimed to uplift and inspire their audience.
Mary recorded her interview for the podcast on 5/25th which marked the 14th anniversary of when she took a leap of faith leaving her award winning career as a VA social worker to heal her life from the once devastating effects of paralytic polio and trauma. They chat about how she overcame seemingly impossible obstacles in her life, her newest book, "Hope is a Garden: Poems and Essays From the 2020 Pandemic" and share her love for musical theater that brought her to love Voices of Hope and their mission of singing out for a cure! Listen by following this link and be sure to subscribe to their uplifting and inspiring podcast.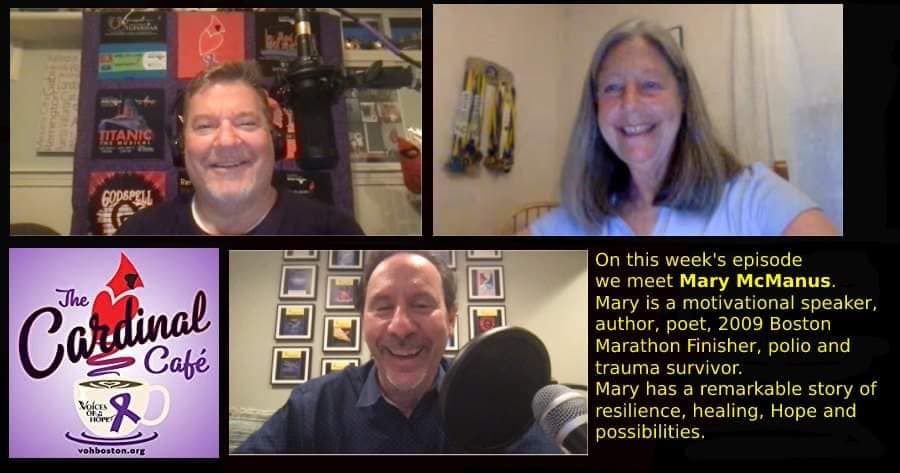 Mary was a guest on Bernie Siegel, MD's  Mind Health Matters radio show. Mary, Bernie and Deborah Beauvais, visionary behind Dreamvisions 7 Radio and TV Network talk about Mary's latest book, "Hope is a Garden: Poems and Essays From the 2020 Pandemic." Follow this link to be inspired as Mary shares her incredible journey of transformation from enduring childhood paralytic polio and severe abuse at the hands of family members through the gift of poetry, the power of the mind/body connection. running and her good fortune of finding her way to Bernie's work and wisdom. Tune in to be uplifted and inspired and rekindle your sense of hope and optimism regardless of the challenges you may face.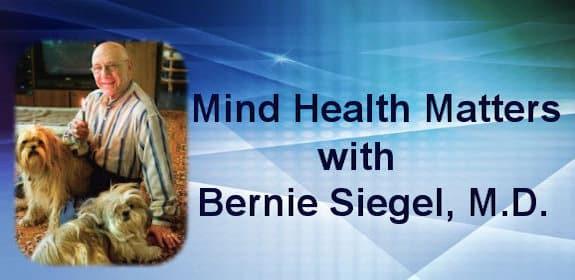 Mary's healing story was featured in the Heal Documentary newsletter and under Healing Stories on their website: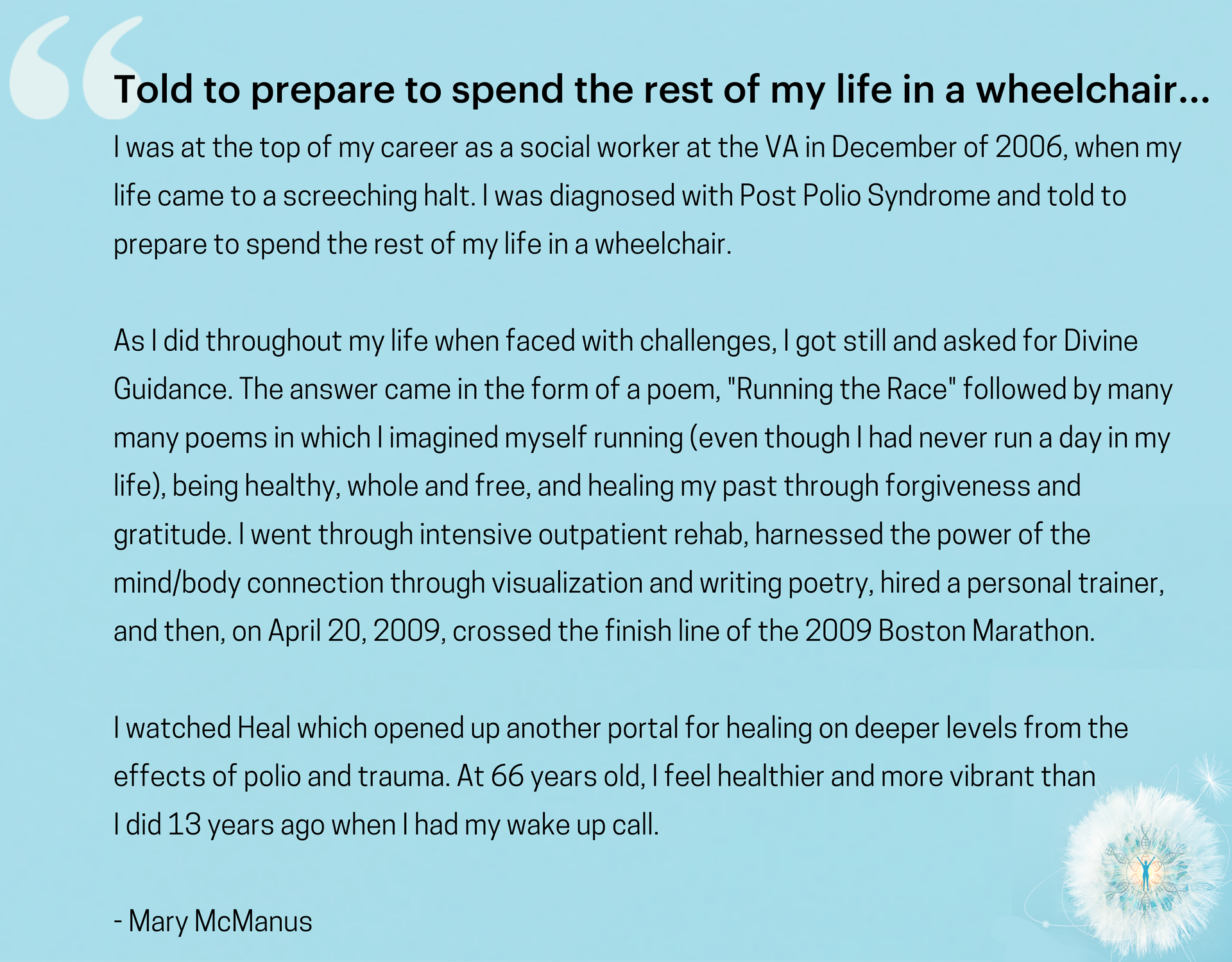 In September 2020, Mary was part of the Virtual Boston Marathon Expo speaking about her journey as a most unlikely runner as part of the Late Life Running-Whole Life Running Panel. Internationally renowned runner and running historian Roger Robinson moderated the panel with guests Gail Kislevitz, Jonathan Beverly and consecutive Boston Marathon record holder Ben Beach. They answered questions and offered insights about the benefits and joys that come with "even more miles." You can watch the panel by following this link.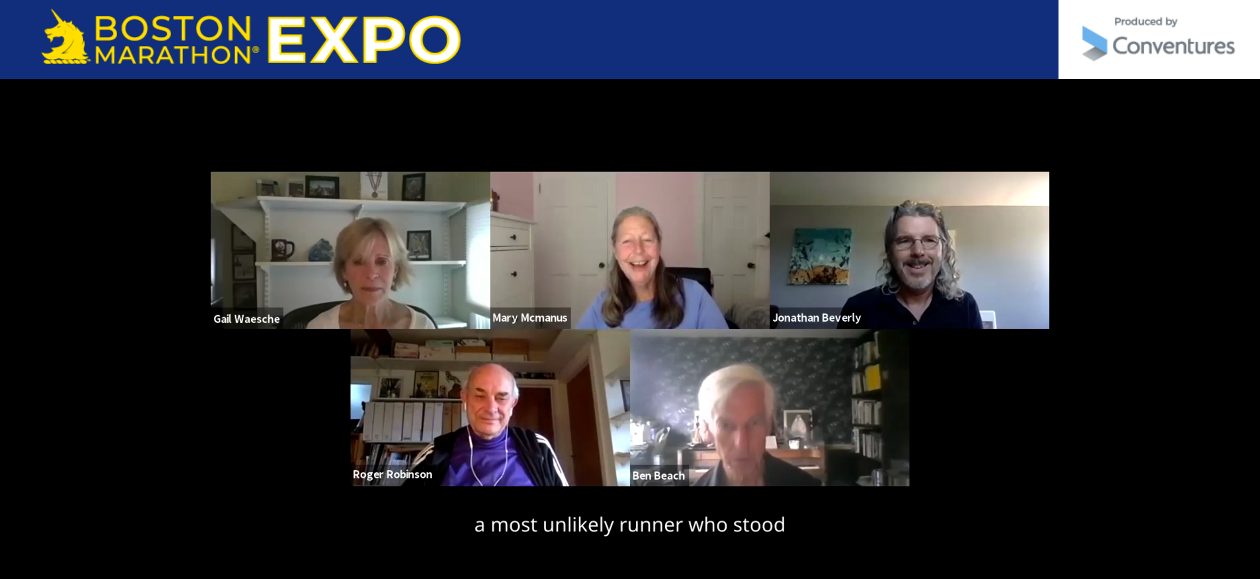 Mary was the special guest speaker at the Hyannis Marathon Weekend in February of 2020 at the Pre-Race pasta dinner. It was an honor and a thrill for Mary to share the stage with runner icon Bill Rodgers. Her blog post, "Embrace the Possibilities" captures the event.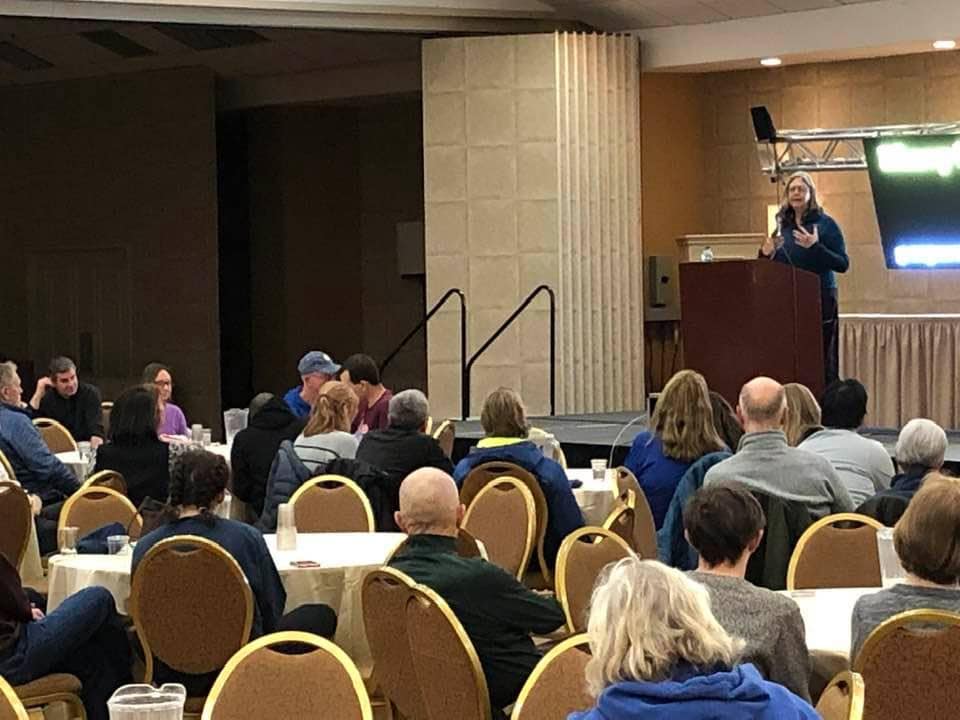 In April of 2019, Mary was featured on Magic 106.7's Award Winning Exceptional Women show. Listen here!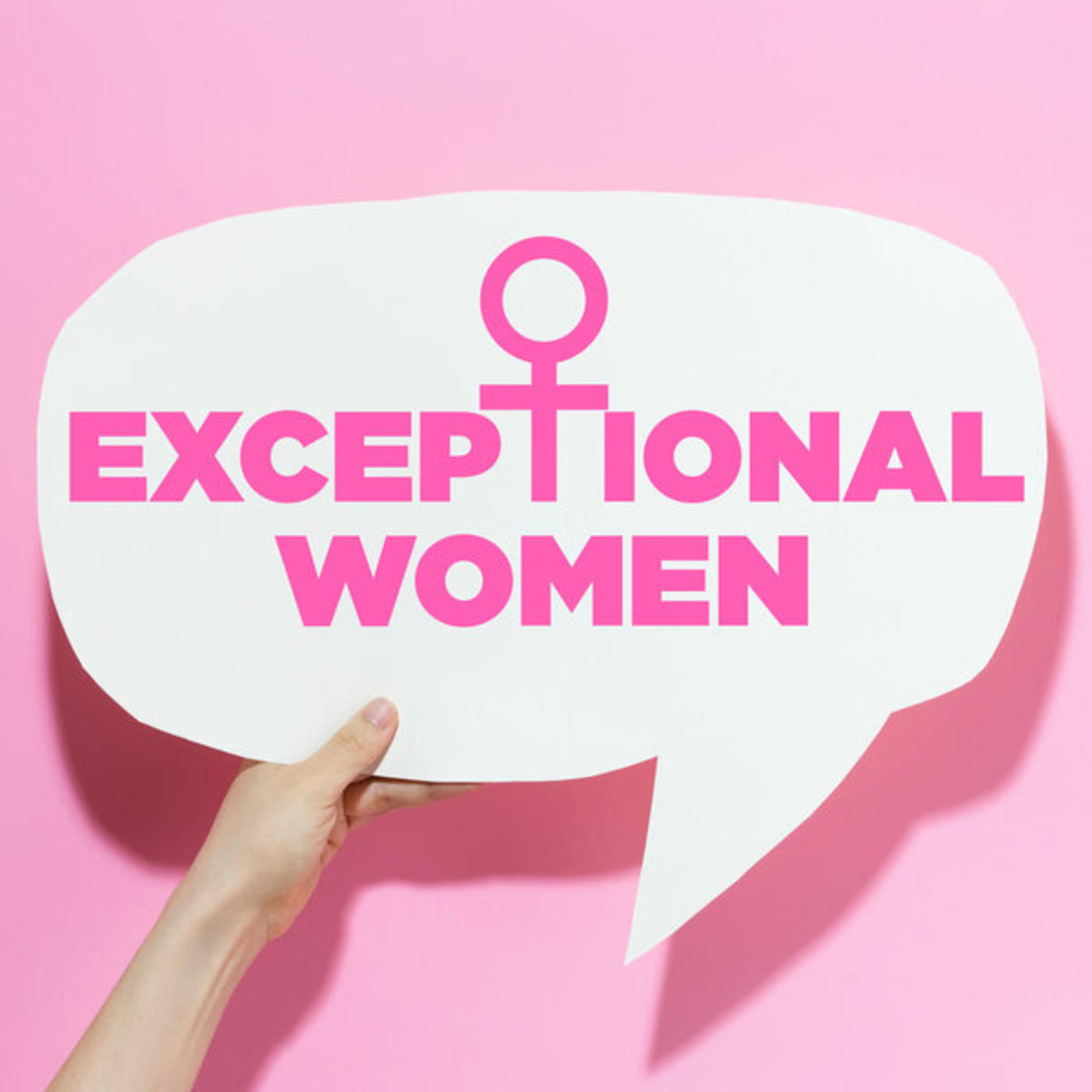 David R. Hamilton Ph.D.'s "Tenth Anniversary of How Your Mind Can Heal Your Body" features Mary's journey of transformation harnessing the power of the mind/body connection to heal from the once devastating effects of paralytic polio and trauma. It's available on Amazon.